---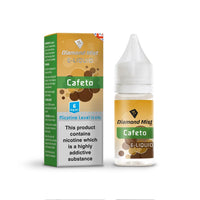 Sale
CAFETO 10mg Nic Salt Diamond Mist E-liquid 10ml
BUY 10 OR MORE BOTTLES FOR ONLY £2.00 each! Mix & Match
Cafeto is not just a coffee flavour, it is a unique blend of creamy coffee for the true connoisseur, from Diamond Mist, the UK's premier E-liquid manufacturer
Nicotine Salt, otherwise called Nic Salt, is a processed kind of nicotine produced specially for vaping. Nicotine salt e-juice is significantly simpler to breathe in than regular e-liquids because it is less harsh on the throat and enables vapers to utilise stronger concentrations of up to 20mg nicotine in UK. The key in experiencing Salts is the ability to inhale more nicotine with less harshness.
All bottles come with a childproof cap and with a raised tactile warning for the visually impaired. Made in the United Kingdom. Ingredients of high purity are used in the manufacturing of Diamond Mist E-Liquids. 
Diamond Mist E-liquids must only be used within a CE certified refillable electronic vaporizing device. Follow the instructions supplied with your device for refilling. Keep E-liquid in a dark and cool environment. Keep locked up and out of reach of children. Keep away from animals. You must be over 18 to purchase this product.
Ingredients: Vegetable Glycerine (VG), Propylene Glycol (PG), Flavourings.