---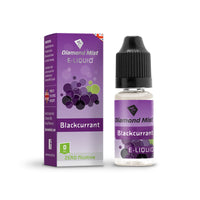 Sale
BLACKCURRANT 0mg - Diamond Mist E-liquid 10ml
BUY 10 OR MORE BOTTLES FOR ONLY £2.00 each! Mix & Match
A really fruity blackcurrant vape that tastes similar to a popular drink from Diamond Mist, the UK's premier E-liquid manufacturer
All bottles come with a childproof cap and with a raised tactile warning for the visually impaired. Made in the United Kingdom. Ingredients of high purity are used in the manufacturing of Diamond Mist E-Liquids. 
Diamond Mist E-liquids must only be used within a CE certified refillable electronic vaporizing device. Follow the instructions supplied with your device for refilling. Keep E-liquid in a dark and cool environment. Keep locked up and out of reach of children. Keep away from animals. You must be over 18 to purchase this product.
Ingredients: Vegetable Glycerine (VG), Propylene Glycol (PG), Flavourings.